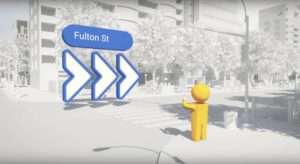 ---
As we examine in our ongoing Space Race series, one of AR's most opportune areas is geospatial experiences. Because AR's inherent function is to enhance the physical world, its relevance is often tied to specific locations. This is a foundational principle of the AR cloud.
For this reason, one of AR's competitive battlegrounds will be in augmenting the world in location-relevant ways. That could be wayfinding with Google Live View, geospatial gaming experiences from Niantic, or location-specific social AR experiences like Snap's Local Lenses.
To synthesize these dynamics, AWE Nite recently gathered a heavy-hitter panel, including some of the companies named above. We're featuring the video and takeaways for this week's XR Talks, starting in Part I with an analyst presentation from AR Insder's own Mike Boland.
Local Intent
Before AR started to be discussed and developed, location has been a source of value in forbearing technologies. In web and mobile search for example, click values are higher when "local intent" is inferred by things like geo-modifiers (e.g. "near me") in a search query.
Google has correspondingly benefited from SMBs and multi-location brands that want to position themselves in the direct path of high-intent local searchers. Other startups like Yelp and Foursquare have likewise built businesses around consumer local search and discovery.
With that backdrop, AR enters the picture with potential to add dimension to the products and business models that comprise local search. Google especially sees opportunity in an Internet of places that builds on all the local search products and other tech it's spent years developing.
In fact, of all of the tech giants pursuing geospatial AR, Google could have the inside track by utilizing existing assets. For example, Street View imagery represents an object-recognition database to localize AR devices, which enables them to overlay geo-relevant AR graphics.
Orbiting Efforts
But Google isn't alone. Apple is signaling interest in developing geospatial experiences as part of its larger AR play. One of the ways it's doing this is through its effort to rebuild Apple Maps with first-party mapping data. As it does that, it's simultaneously capturing 3D spatial maps.
Along with several other orbiting efforts underway from the secretive Apple, this mapping data could be the basis for Apple's very own AR cloud. Having its own spatial maps could enhance the utility of its rumored AR glasses, which will need compelling content and experiences.
As for those other "orbiting parts," they include Geo-Anchors. This is an ARkit function for developers to build geo-anchored AR content that's persistent (digital items stay where you leave them), and multi-user (several people can synchronously view the same digital item).
Project Gobi will meanwhile place physical markers to trigger AR content in retail locations like Starbucks. This could enable AR glasses experiences to interact with or pay for things. In fact, all of these moves are to seed AR experiences so that its AR glasses hit the ground running.
Layered Meaning
Thirdly, we have Facebook which is similarly pursuing geo-local AR ambitions. And like Google and Apple, its approach aligns with its core business. This involves interacting with people and places in the real world to deepen connections… as you might expect from Facebook.
One of the pillars for this vision is Facebook's Live Maps. This conceptual model is Facebook's take on an AR cloud. And its advantage in building it is sheer scale: it wants to crowdsource spatial mapping by ingesting data (on an opt-in basis) as its users move through the world.
As it's explicated in the past, Facebook sees this happening in a few data "layers." A location layer defines exact positioning, while an index layer contains the geometry of different spaces. Finally, the content layer has more personalized data such as helping you find your keys.
But the elephant in the room for all of the above is that it's a privacy minefield. Beyond the question of Facebook's technical execution is a question of if people will opt-in and trust it with the layout of their bedroom. That will be the wild card for Facebook and Live Maps.
Wide World
That's just three examples, and several more exist. For example, Snap is building Local Lenses as noted, and other socially-driven interactions that are conceptually similar to Facebook's approach. And then there's Niantic whose Lightship platform is well-positioned for geospatial AR.
Meanwhile, Microsoft Mesh is the enterprise productivity "layer" that will have geo-anchored content for various industrial and corporate use cases. Amazon is also making subtle but notable moves to integrate visual search and AR to support its core eCommerce business.
And there are startups doing compelling things such as Foursquare, Gowalla, Resonai and ARway (a speaker at the same AWE Nite event). Check out the full video below, and stay tuned for part II of this series that will highlight takeaways from Google, Niantic and ARWay.
More from AR Insider…
The post XR Talks: AR is All About Location appeared first on AR Insider.
---
Filed under: XR Talks - @ 21. Mai 2021 17:08
---